In this blog post, learn about the difference between Qualitative and Quantitative COVID-19 serology tests and learn how to verify overseas COVID-19 vaccination in Singapore.
What Is Severe Acute Respiratory Syndrome Coronavirus 2 (SARS-CoV-2)?
Severe Acute Respiratory Syndrome Coronavirus 2 (SARS-CoV-2) is characterised by its spike (S) protein which targets human target cell receptor angiotensin-converting enzyme 2 (ACE2).
What Is Humoral Immunity and How Does It Affect Us?
Humoral immunity is produced naturally as part of immune response that can be triggered by either infection or vaccination.
Neutralising antibody is part of humoral immunity that can stop a pathogen (an organism causing disease to its host) from entering cells in the body.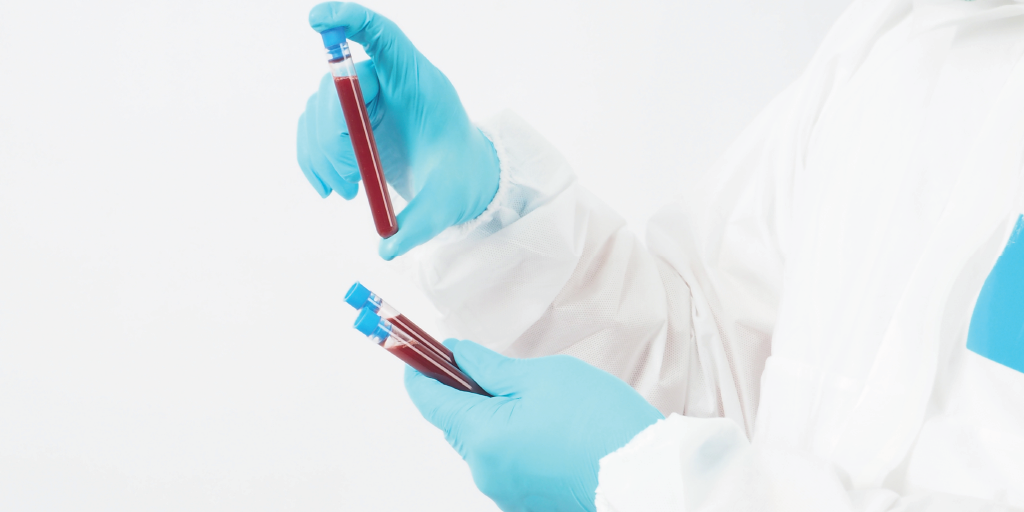 What Is Qualitative COVID-19 Antibody Test (cPass Test)?
cPass test is suitable for vaccinated individuals who would like to find out if their bodies have developed a level of protection against the COVID-19 virus. The cPass test goes a step further than the ordinary serology test. It is the first of its kind to detect specific antibodies, which are neutralising antibodies that neutralise the COVID-19 virus and prevent it from infecting your cells.
The cPass test measures the percentage of SARS-CoV2 neutralising antibodies, which is used as an aid in identifying individuals with adaptive immune response to past infection or vaccination. 
cPass test has been approved by Health Sciences Authority (HSA) and United States' Food and Drug Administration (FDA) to specifically measure your level of neutralising antibodies. As everyone have different levels of neutralising antibodies, measuring them can provide you with valuable insights on your protective immunity against COVID-19.
What Is Quantitative COVID-19 Antibody Test (Anti-SARS-CoV-2 S Test)?
Quantitative COVID-19 Antibody test (Anti-SARS-CoV-2 S test) detects the presence of S-antibodies (which are produced mainly from vaccination) and quantifies the amount of antibodies.
It is used to differentiate vaccinated individuals from unvaccinated individuals.
What Is the Difference Between Qualitative COVID-19 Antibody test (cPass Test) and Quantitative COVID-19 Antibody Test (Anti-SARS-CoV-2 S Test)?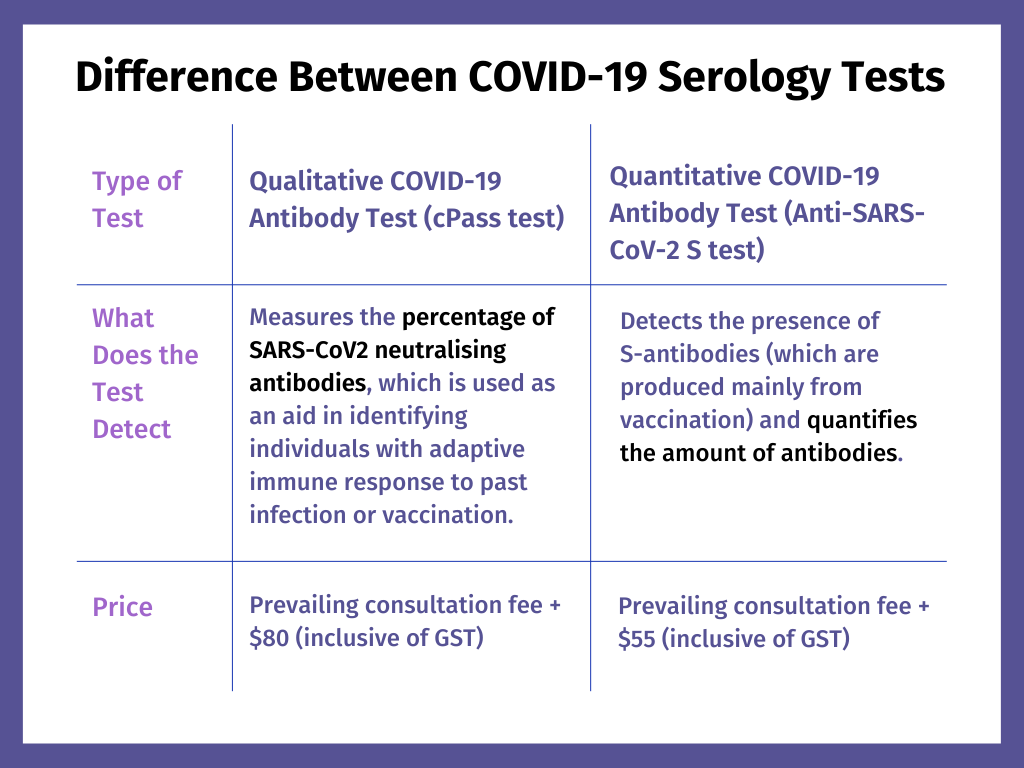 COVID-19 Serology Test: Verification of Overseas COVID-19 Vaccination
All individuals who have received their vaccination overseas with any vaccines approved under the WHO Emergency Use Listing (EUL), including booster shots, can get their overseas vaccination records updated in the National Immunisation Registry (NIR). This includes Singaporean Citizens, Singapore Permanent Residents, Long-Term Pass Holders, and Short-Term Pass Holders. Healthway Medical clinics are PHPC clinics, which you may call to book an appointment for a COVID-19 serology test.
After arriving in Singapore, you will need visit a healthcare provider who will:
Review your overseas vaccination documentation (either original hard copy or digital vaccination certificate)
Conduct a serology test
Update your overseas COVID-19 vaccination record(s) to NIR if your serology test is positive
Your vaccinated status will be updated in the TraceTogether app within 24 hours.
Frequently Asked Questions
How Can I Book an Appointment?
Walk into your nearest Healthway Medical GP clinic for your serology test. Alternatively, you may call any of the following Healthway Medical GP clinics to book an appointment:
Please note that due to the high influx of patients visiting our clinics for COVID-19 tests, you may experience a longer waiting time (including those who have booked their appointment). We seek your kind understanding as we take precautions to keep you safe while attending to your medical needs.
Which Healthway Medical Clinics Offer These Serology Tests?
All Healthway Medical clinics offer these serology tests.
Should I Consult a Doctor Before Taking the Serology Test?
It is not necessary to consult a doctor prior to taking the serology test.